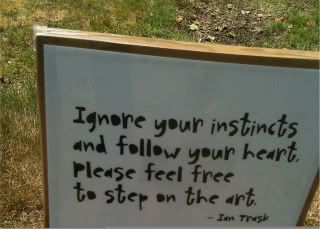 When I reached an art piece at the NYC Figment Festival, currently ongoing through Sunday at Governor's Island, I was compelled to stomp on it. Not on the grounds of any aesthetic opposition, but because the artist had told me to. The card accompanying the art read: 'Ignore your instincts and follow your heart/please feel free to step on the art.'
This joyously DIY festival is a fine place for all ages. All of the exhibitions are kid-friendly, and nearly all are interactive. I stomped on art, hung up art, and sketched art, to name but a few of the art-related verbs that took place this weekend. The Figment Festival is largely a tribute to independent work, but it comes without all the fussiness that comes with art-viewing of any kind. I was not instructed to stand at least 5 feet from the art; instead, I was invited to immerse myself in the pieces (and of course, I nearly always took up on that generous offer.) Perhaps my favorite piece was an elevated dining table, complete with perfectly set tableware. The message (if there was one) seemed clear: 'Even though we're eating on a 37-degree tilt, 9 feet in the air, there's no reason why we can't maintain decorum'. The intensely minute, elevated display was contrasted with a cacophony of sounds from beneath the table: Dishes shaking, spoons tingling, forks clanking. I was tempted to peek underneath the cloth and observe the inner workings, but I ultimately did not. I will leave that for a visitor braver than I.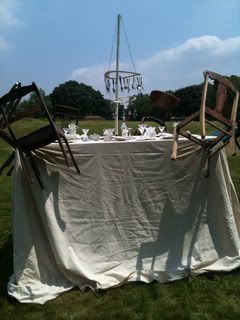 Some pieces acted as sly nods to other famed art works: 'Cardhenge', an exhibit consisting of several conical monuments made from cardboard, was of course a reference to the ancient Stonehenge. While Cardhenge won't last for centuries like its rock-based predecessor, I still found it to be a clever nod to history with an evocative and humorous name.
Other art exhibitions looked forward rather than backward. I found multiple pieces that were stellar contemporary witticisms, perfect for the rapid-information, Twitter-Facebook age in which we now live.  One lonely placard read: 'He can't, but you can'. The exhibit was empty, but I like to imagine that the card (and the surrounding emptiness) made up some sort of bold post-modern statement instead of an exhibit on break. (Hey, it's Figment: anything is possible.) While traveling further down the road, past visitors lying on freshly-cut grass fields and children trying to bunny-hop on bicycles, I saw a man walking, dodging bikes, and sweating profusely while wearing a black T-shirt that read: MORE BIKE LANES.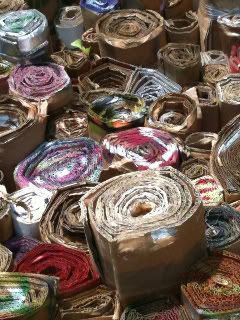 As I was exiting the Figment Festival at Governor's Island, I came upon another exhibit with a fascinating moniker: 'Social Tremor'. It was a dance group performance that I had unfortunately missed by the time of my arrival. Yet, I felt oddly satisfied just observing the social dances all around me, trembling with life and humor.
NYC Figment Festival is at Governor's Island-June 10-12th.
-Joseph Barkeley
9 Comments | Posted on June 12, 2011 | Categories: Attractions, Event-Related, From the Blog